National Nutrition Month Celebrations 50 Years!
|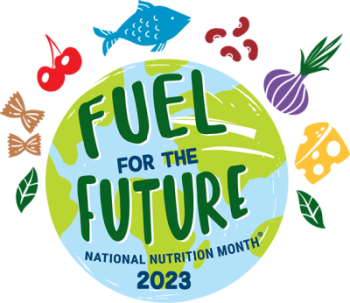 It has been 50 years since the Academy of Nutrition and Dietetics started the annual celebration of National Nutrition Month®. Its purpose is to remind Americans to learn more about making informed food choices and developing healthy eating habits.
This year's theme is Fuel for the Future. The goal is to eat healthy while keeping sustainability in mind to help our planet. Here are some tips from the Academy we can incorporate into our daily lives:
Eat With The Environment In Mind
Enjoy more plant-based meals and snacks.
Purchase foods with minimal packaging.
Buy foods in season and shop locally when possible.
Start a container or backyard garden to grow food at home.
See a Registered Dietitian Nutritionist (RDN)
Ask your doctor for a referral to an RDN.
Find an RDN who specializes in your unique needs.
Learn how nutrient needs may change with age.
Receive personalized nutrition information to meet your health goals.
Stay nourished and save money
Plan your meals and snacks.
See what food you have at home before purchasing more.
Use a grocery list and shop sales when purchasing food.
Learn about community resources such as SNAP, WIC, and local food banks.
Eat a variety of foods from all food groups
Include your favorite cultural foods and traditions.
Eat foods in various forms, including fresh, frozen, canned, and dried.
Avoid fad diets that promote unnecessary restrictions.
Practice gratitude for your body by giving it the fuel it needs.
Need More Help Eating Right?
Try a home-delivered meal service for healthy meals that are perfectly portioned, nutrient-dense, and ready to go when needed. Many health plans, including Medicare Advantage, offer home-delivered meals as a benefit. Check with your plan to see if you, or a loved one, is eligible!
GA Foods is also proud to celebrate its 50th year of serving older adults through congregate centers and home-delivered meal programs. To learn more about how to get home-delivered meals, please click here to download our guide!
Alexandria is the Senior Product Manager at GA Foods. She is a Registered Dietitian and has worked in clinical rehabilitation facilities and the post-discharge food industry. This experience gives Alexandria unique insights into social disparities and how health is affected. She and her growing family live in Tennessee and enjoy the mountain air, gardening, and tending their chickens.