GA Foods Celebrates Its 50th Year of Nourishing Americans
|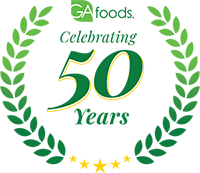 The company grows as health plans recognize the benefit of foods as medicine.
ST. PETERSBURG, Fla. – APRIL 27, 2023 – GA Foods, a leader in home-delivered meals for older adults, is celebrating its 50th year in providing healthy nutrition and serving the unique needs of Medicare Advantage and Managed Medicaid plans with post-discharge meal delivery, chronic care nutrition support, and Long Term Services & Supports (LTSS), as well as nutrition delivery for children, the military, and emergency responders.
GA Foods was founded in 1973 by brothers Jim and Ken LoBianco in St. Petersburg, Florida. For the first several years, the company focused on providing hot, nutritious meals to seniors and child nutrition programs in Florida.
GA Foods has since expanded to provide meal programs to more aging networks and Medicare and Medicaid beneficiaries, touching approximately 13 million lives annually. Medically tailored meals and medical nutrition therapy are available to those with chronic conditions to help them stay well-nourished while remaining independent in their homes. A team of Registered Dietitians and Executive Chefs design menus to ensure the meals not only taste good but meet nutritional targets.
"Our diverse offerings include fresh frozen meals, fresh produce, and shelf-stable meals delivered directly to members' homes as well as hot catering in congregate settings to provide the right solution for all," says Tommy Lewis, Chief Executive Officer. "I am proud to lead an organization dedicated to providing healthy meals and supporting the nutritional status and health outcomes of so many Americans. We are committed to serving health plan members as part of the continuum of care and providing nutritional support and education for those we serve."
GA Foods also provides shelf-stable meals to customers in 48 contiguous states, is a supplier to the military, and is a first-line meal provider in emergency response situations such as hurricanes, tornadoes, floods, and blizzards.
ABOUT GA FOODS
Headquartered in St. Petersburg, Fla., GA Foods has been preparing and delivering meals since 1973. The company is a specialized maker of highly specified meals serving the unique needs of healthcare Medicare and Medicaid members, seniors, children, the U.S. military, and for disaster relief efforts. The Company's services include meal design, food preparation and packaging, distribution, innovative delivery, high member engagement, and integration with payor and provider systems for home-delivered and congregate customers. GA Foods meals often help contribute to these populations avoiding costly nursing home stays, management of chronic conditions, and hospital readmissions. The company has more than 800 employees nationally, including more than 500 Florida-based employees.
For more information, please visit www.GAFoods.com.
###
Mary is the Senior Marketing Manager at GA Foods. Mary communicates how nutrition plays a vital role in maintaining a healthy lifestyle through blogs, emails, and presentations. She enjoys learning new recipes and preparing healthy meals for her friends and family!